The FIRST Program offers a comprehensive menu of services to clinical investigators in the Department of Surgery. To request services, please complete the Services Request Form.
Each Services Request Form is reviewed by the FIRST Program Director and Clinical Research Administrator (CRA). Initial follow-up with the investigator typically will occur within 24 hours. Requests are reviewed for alignment with the FIRST Program's mission and capacity to respond to the request with the proper level of expertise and guidance. Requests are then prioritized based on several factors, including alignment with Department of Surgery research priorities, existing or potential for extramural funding, and availability of staff and other resources.
Overview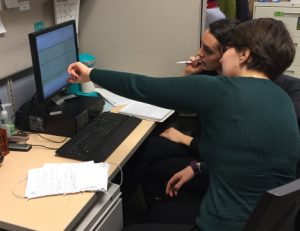 The FIRST Program is designed to handle a full assortment of activities that are an essential part of most clinical research programs. These activities include, but are not necessarily limited to, research mentorship, protocol guidance and development, regulatory support, biostatistics support, study coordination, and grant application preparation and review.
Regulatory Support
Assist with understanding and navigating the IRB process
Review IRB applications prior to submission
Assist in preparing and submitting new IRB applications, amendments, AE reporting, continuing reviews, and termination reports
Monitor and improve clinical research compliance
Facilitate the completion of human subjects protections training
Assess labs for IRB audit readiness to ensure a successful audit
Assist in implementing regulatory corrective actions, as needed
Study Coordination
Assist with protocol development for investigator-initiated studies
Develop standard operating procedures and manual of operations
Provide support with database building as well as data collection, coding, entry, and validation
Subject screening, recruitment, and enrollment
Clinical trial budget development and negotiation
Provide support for biological sample processing, storage, and documentation
Industry communication
Mentorship
Provide guidance regarding the design and validation of surveys and other patient-reported questionnaires
Identify research funding opportunities
Individual mentorship across the research spectrum (e.g., design, methodology, biostatistics, writing, etc.)
Help to identify potential research collaborators
Pre-submission grant review. Click here for details
Education
Deliver individual and/or group education and training for research staff
Presentations about

FIRST Program

at Division meetings